Veracity Racing Products
We have developed a few products to help make installing systems easier. We are using these on our own cars and do recommend them for use in your applications as well.
Brake Pressure Manifold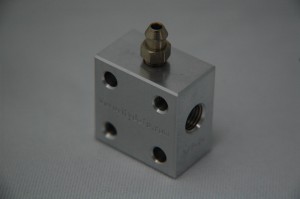 This machined aluminum manifold features two 3/8-24 ports, and a 1/8 NPT port on the bottom for a brake pressure sensor — includes a bleed nipple to prevent trapped air in your brake lines. $65 each.
Formula Ford RPM Pickup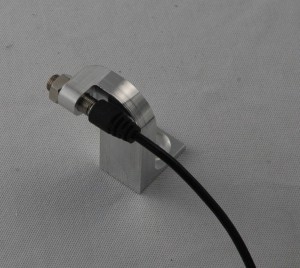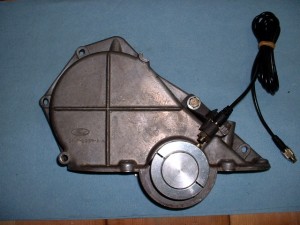 Machined aluminum bracket, and aluminum collar are used in conjunction with an AiM Magnetic wheelspeed sensor to provide a clean RPM signal for a Formula Ford Engine. The bracket mounts to an existing stud on the front of the engine, and the collar fits around the crankshaft pulley. Bracket & collar are available for $100, complete kit including speed sensor, trigger magnet, and adapter wiring (to connect speed sensor to RPM input — and provide 12V power for sensor), $200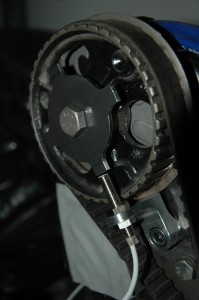 The FF kit proved so popular, we made one for the 2L FC & S2 cars as well. This one uses a proximity sensor and a 4-pole steel trigger wheel. Same price, $200.
Stohr WF-1 & F1000 Suspension Sensor Mounting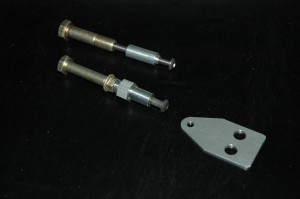 We have developed a kit to install Linear Potentiometers on the suspension of Stohr DSR and FB models. Includes all brackets, spacers and screws needed for a very tidy and quick installation.
Ultimate Tail / Brake Lights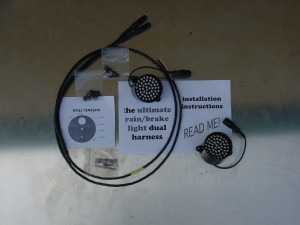 We had a version of the Ultimate Rain Light built just for us that provides two lights and a Y cable — the lights operate as rain/tail lights as well as show increased brightness when the brake light signal is activated. Available in either narrow (30" maximum between lights) or wide (72" maximum versions).